Come and discover Pür Urbain Candiac!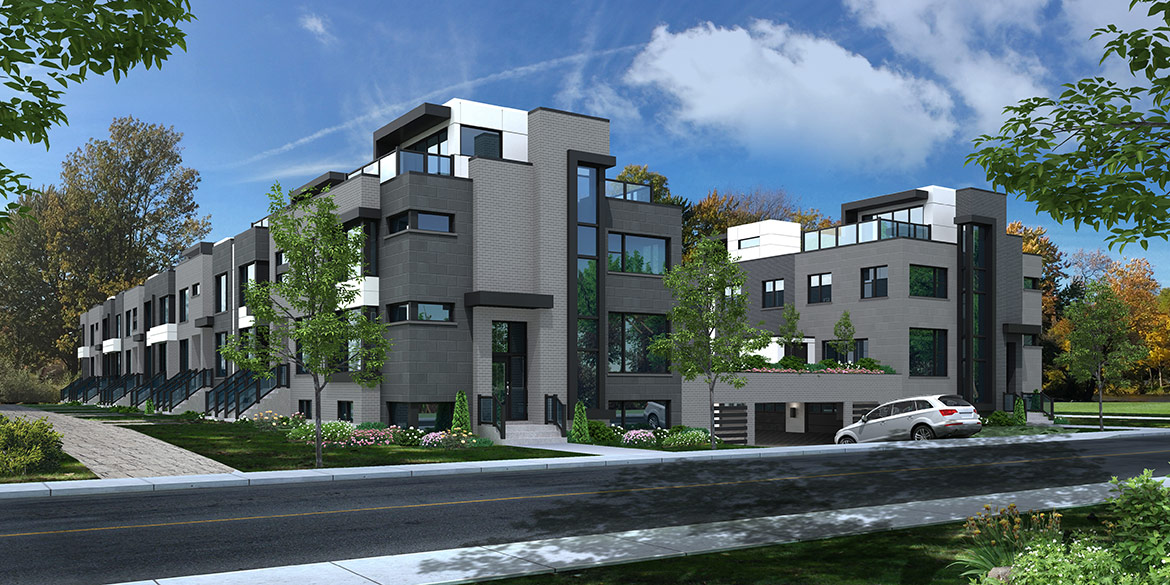 Live in one of our modern townhouses!
Our townhomes are built with high quality materials that exceed the highest industry standards for construction.
All of our homes are fitted with a double garage, with direct and private access to the property. As well, our townhouses all have a large 20' x 20' terrace at the rear with the possibility of adding a second private roof terrace for a spa.
We offer unique rooftop terraces that include solar panels and urban gardens.
Each of our units is customized and unique. Our designer makes sure to understand the needs of our clientele in order to meet the lifestyle of today's modern families. The windows in our townhouses are abundant and greatly exceed the market standards.
Availabilities
Our residences are equipped with home automation systems that allow clients to have full technological access to their residence, remotely, through their mobile phones or tablets. The overall design of our homes has been thoughtfully designed to combine simplicity and style while harmonizing the architecture with the environment.
Our kitchen cabinets, countertops and bathroom units are made of high-end materials that combine cleverness and style with an emphasis on detail, setting us apart from the competition in this category of construction. All of our floors are made of hardwood.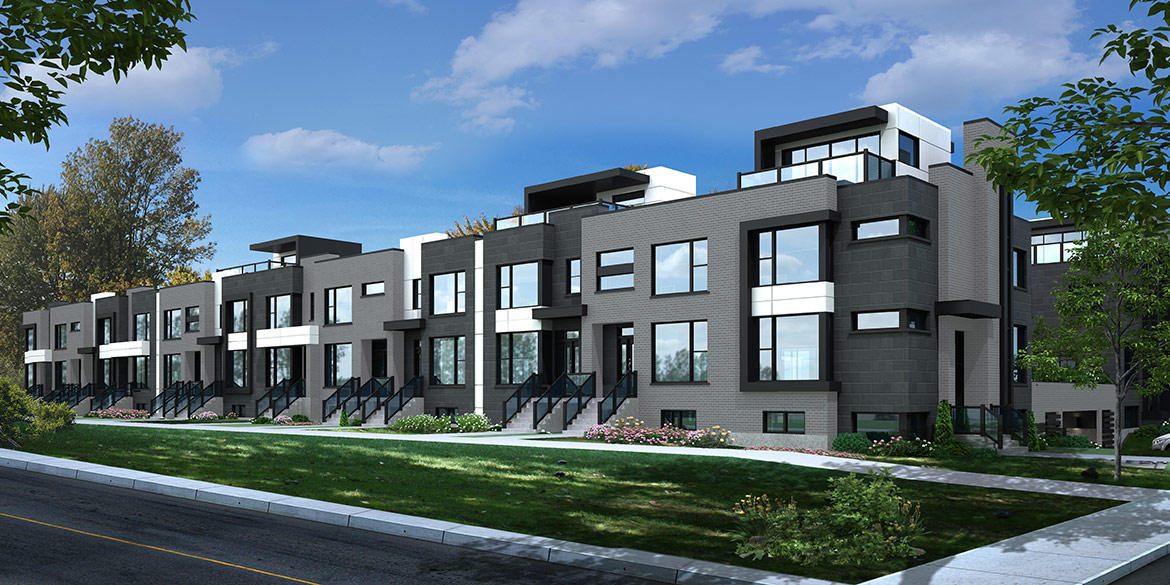 Features
Prime location in a pleasant cool area.
Direct access to the cycle path and footpath.
Free Wi-Fi in the park areas.
Superior quality construction.
2 indoor parking spaces.
Outdoor pool dedicated to the project.
Beautiful outdoor deck of 20' x 20'.
Strategically located to provide road access.
Close to all services, shopping centres, banks, restaurants pharmacies and more...
3 minutes walk to the bus service.
Features of the units
8 and 9 foot ceilings.
Large windows.
Rooftop balconies with optional spa.
Hardwood floors.
Contemporary style trim (5 ½).
Ground floor and upper floors painted white.
Home automation system including: Smart control system, smart touch lock, exterior lighting, smart smoked thermostat.
Connections for gas BBQ included on the ground floor balcony.
Standard doors.
Electricity - Heating - Air conditioning
Centrally controlled forced-air heating and cooling system (optional).
Natural gas water system.
Electrical ceiling outlet for future ceiling lights (n/i) in dining room and entrance hall.
Modern exterior lighting.
White recessed lights. Number varies according to size and model of the unit.
Kitchen
Melamine kitchen cabinets with full extension and self-closing drawers (choice of colours).
Stainless steel kitchen hood.
Stainless steel double sink.
Central island, quartz countertop (colour choice).
Shower room and bathroom
Dual flush toilet (energy efficient).
Contemporary vanity design.
12" x 24" ceramic floor covering.
Glass shower with ceramic lined walls.
Design freestanding bathtub.
Rain head shower.
Laundry room
12" x 24" ceramic floor covering.
Washer and dryer outlet.
Cabinet (optional)
Exclusions
Wallpaper
Electrical fixtures.
Decorative elements.
Coloured paint.
Furniture.
Blinds and curtains.
Everything for the family in our homes in Candiac
Our homes in Candiac offer families the opportunity to thrive in a great environment. The number of activities offered by the municipality of Candiac is impressive.
In fact, the municipality offers hundreds of activities each season through its recreation centre. Young and old will be charmed by the impressive range of seasonal activities.
To name a few of the activities from the City of Candiac's Spring 2019 Recreation Guide :
Hockey
Soccer (indoor and outdoor)
Baseball
Football
Figure skating
Badminton (free)
Classical and jazz ballet
Cycling club
Canvas painting
Yoga
Early Bird Cardio
Babysitters
Cardio pram
Etc.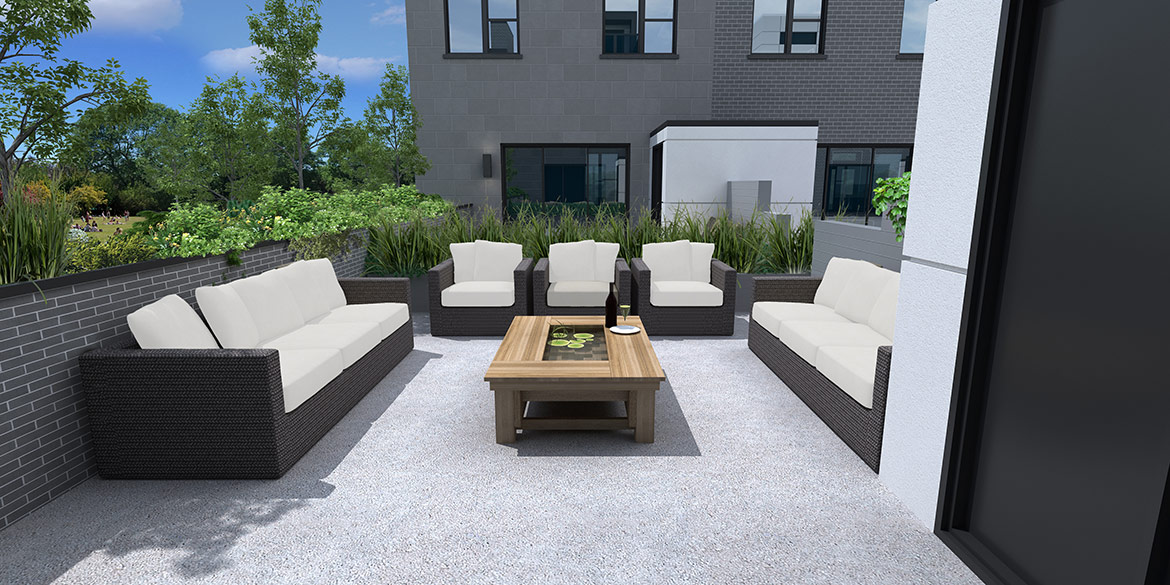 Activities in Candiac
You can imagine that the list is even longer than the above activities! Indeed, Candiac makes every effort to ensure that citizens are satisfied with the quality of services and activities that are offered to the community. In addition to sports, there are also a number of classes and conferences that are available to citizens.
The ten or so borough parks offer impressive activities such as day camps, summer camps and free outdoor shows in abundance. Also, the Maison des Jeunes l'Antidote allows young people aged 12 to 17 to integrate into society by developing the sense of responsibility of the region's youth while offering them support and guidance.
Finally, it would be unthinkable to talk about living spaces without mentioning the seven schools, private, public, French, English or French immersion, which have been well established in the community and have been for many years.
In short, there is something for everyone!
Our houses for sale offer a unique proximity to all services
Geographically located near Highway 15 and Highway 30, our homes for sale are within walking distance of all essential community services.
Without stepping out of the neighbourhood, you can easily access two banks and drive your children to the local school without having to take your car.
Availabilities
"The convenience store, pharmacy, grocery shop, town hall and gas station are all located within 500 metres of our luxurious, environmentally responsible and uniquely Canadian townhouses."
Dominic Guinta - Marketing Director.
As if that wasn't enough, there is also the possibility of accommodating seniors in a brand new complex based nearby. Indeed, the Chartwell complex - where happiness is lived - opens the doors of their residence for seniors being located at the same angle as the townhouses of our Pür Urbain Candiac project. Why should we separate the family when we can all live together in close proximity?
Do you have teenagers entering college or university? No problem. The region's public transit park-and-ride lot is less than a minute's walk from our homes for sale! It will therefore be possible to get to downtown Montreal in less than 25 minutes, at any time of day, without having to deal with traffic jams!
Is health important to you? Less than a kilometre away, you will have access to the CLSC, which provides health services for your daily needs. Also, since maintaining this precious health is a growing social issue, we feel it is important to be located near the new aquatic centre that will soon open in Candiac. In addition, we are based at the epicentre of of all the region's bicycle path connections!